Skip to end of metadata
Go to start of metadata
Express® Suite
No two cafeterias are the same. Location, size of the establishment, customer footfall, and payment modes, are some of the factors that determine the way your cafeteria is operated. To tackle all the possible scenarios, Zeta has developed a robust solution that is scalable, flexible, and highly customizable that adapts to your cafeteria. Based on your business requirements, you may opt for one or a combination of the following components: 
Express® Remote


Express® Remote is a revolutionary in-app ordering feature using which employees can order food from the comfort of their desks. This is particularly useful for big organizations with thousands of employees, as this will avoid overcrowding at office cafeterias during peak lunch hours. Customers can select from the cafeteria's menu using Zeta App, leave special instructions for the chef (little more sugar in your coffee maybe?), and pay from various payment modes offered, including popular ones like  QR Code , Shop ID , and Zeta's very own Cash Card.

Zeta App's robust notification feature keeps the employee updated about the order status, including when the order is ready to be picked up. The following illustration shows how Express® Remote makes the entire process streamlined and convenient.
Express® Kiosk
Cafeterias, big or small, need considerable manpower to operate. Manning cash counters is one of the most important responsibilities, often requiring the owner to be present or hiring someone specifically for processing orders. Furthermore, long queues at the cash counter can easily turn away customers. All these overheads are bound to escalate if you run more than one store.
Wouldn't it be great if there was an easy solution to all the complex bottlenecks related to running a cafeteria? What if the entire ordering process was digitally offloaded, and with minimal investment? Presenting Express® Kiosk - a unique cafeteria management solution that uses a combination of hardware (kiosk machine) and software (Zeta App) to automate the entire order management process.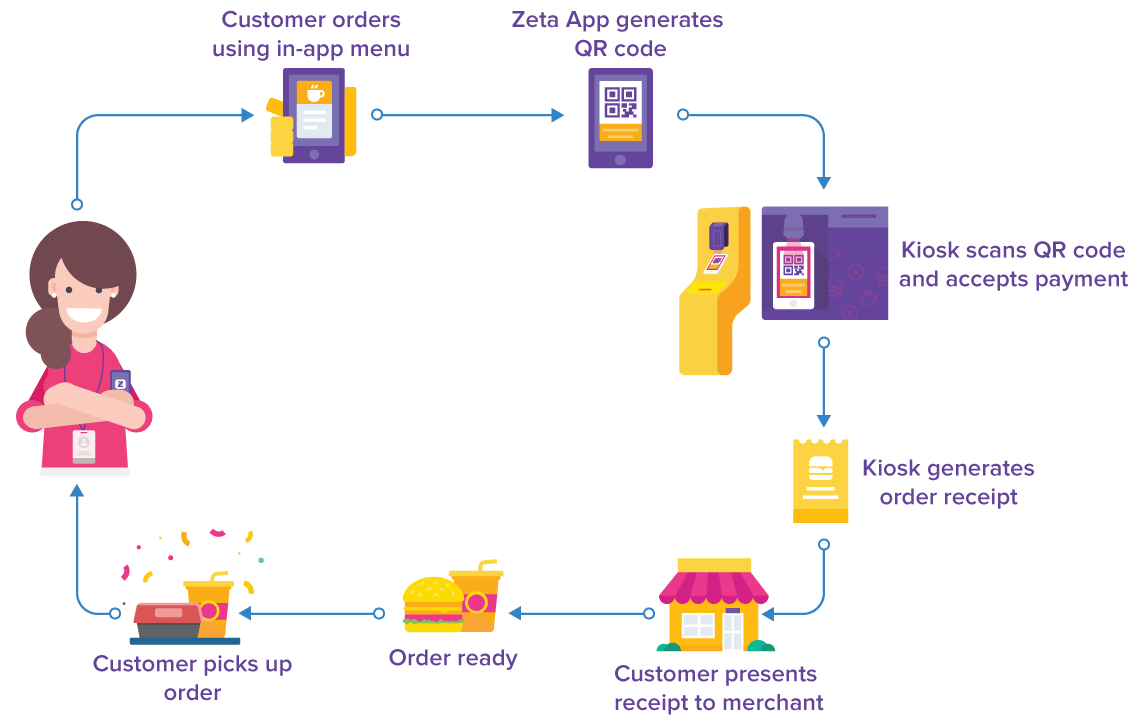 All tasks that previously required manual intervention, will now be entirely digitized. From collecting orders to processing payment, Zeta's one-of-a-kind solution handles everything. All you have to do is place the kiosk somewhere convenient and accessible (like cafeteria entrance or in the lift lobby) and watch your cafeteria turn into a modern, state-of-the-art and streamlined business operation. It's as easy as that! More information available here.
Push notifications and order tracking are currently not supported in this model.
Express® Management
The Zeta Express® Suite currently provides the following management components:
Android POS
Zeta Android POS (also known as Zeta Store) is a feature-rich app perfect for the traveling merchant. Not only can you accept payments from your customers, but you can also view and analyze daily transactions on-the-move. A comprehensive Control Panel allows you to manage more than one store (in case you run a chain of cafeterias in different locations), and allocate store owners and managers for them.
Get started with Zeta Android POS.
Only available for Android. Download here.
Touch POS
Zeta Touch POS (also known as POS with Menu) is a touchscreen-based POS solution for restaurants and cafeterias, that simplifies your business operation. With an intuitive and interactive interface, you can easily perform simple tasks like managing menu and collecting orders, as well as complex operations like inventory tracking and sales analysis. You can manage multiple stores, assign store owners/managers, and view settlement reports from a single POS system. Zeta Touch POS is optimized to handle cafeteria operations of any scale and size - whether it's a quick service restaurant or part of an international franchise.
Web POS
Zeta Web POS is web application that serves as a companion to your Zeta Android POS. Access your business using a web browser, and perform all the management and configuration tasks available on the App.
Get started with Zeta Web POS.
Vendor POS
Zeta Vendor POS is a touchscreen-based POS solution specially developed for business owners running multiple stores. Running on Android, the unique digital solution provides features similar to Touch POS, but with advanced features optimized for multi-store management.
The primary component of Vendor POS is centralized billing—instead of accepting orders from individual stores, cashiers can now accept orders from all their stores using a single POS. Customers order and pay once, instead of ordering multiple times at different stores. Business owners enjoy enormous savings and Return On Investment (ROI), as they no longer have to invest in separate POS devices and manual resources (cashiers) for their stores.
Get started with Zeta Vendor POS.